A friend of mine has had me considering the Red River Century for over a month now. I was pretty decided on trying it out (and therefore training for it). I was going to start training seriously when I came back from New Jersey, at the end of may, but unfortunately I sprained an ankle a few days after I came back and had to delay the start of serious training for a few weeks. I went out today for the Bandelier Loop, which is a 28 mile ride. I did it in the counter-clockwise direction, which starts out with a steady climb of maybe a few hundred feets over 1-2 miles, then rolling climbs over most of the length, with one canyon in the middle, which goes down 400ft and back up 400ft and then one slow, steady climb over 5 miles and one steeper, steady climb over 2.5 miles. (Ok, I was going to add a google map of this, but I can't seem to figure out how to make a proper one of those "my maps" thingies. I'll see if I can get it working at some point.) In any case, it was a nice ride, which I did on my trusty marin muirwoods, which has just been augmented with a pair of aerobars.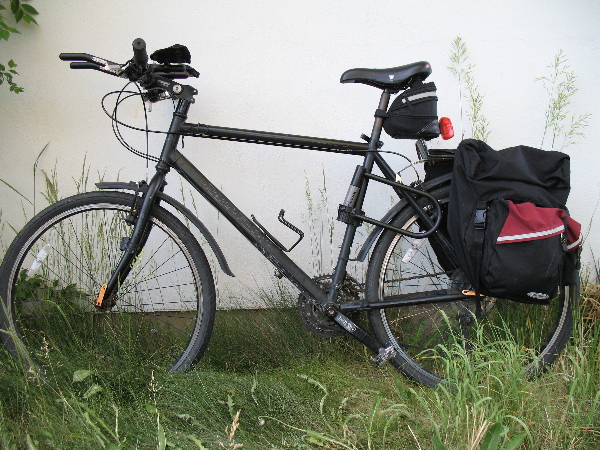 This was my first ride with the bars and while I have to adjust a few things (seat has to slope forward so I don't crush my balls so much and I have to push the aerobars just a tad forwad as well, right now I'm a little cramped), I can say it is indeed very comfortable. It will be interesting as I get better and better riding in the aero position. The final time for the 28 miles was 2:25, which is bad. I'm not on a fast bike by any means (steel, etc, etc) and I was somewhat loaded, but not as loaded as I would be on a long self-supported tour (which is what I actually keep in mind, I don't really want to beat speed records) so one would expect I could do better. This is 30 miles, which means a full century is about 3.3 times this, accounting for the fact that I'll get more and more tired as the ride goes on, a time of 2:25 on 28 miles means I would do something like 9+ hours for a full century, plus the stops. Not incredibly good, but at least I could get through it with some determination. Ideally, I'd cut my time on the Bandelier loop to 1:30, but I don't think I'll get there. This is the kind of time friends of mine do on road bikes. Let's say I stay optimistic and I can cut this down to 1:45, that means, say a 7.5-8 hour century plus the rest stops. Not a speed record, but something I'd be satisfied with.
To be fair, I did many things wrong on this ride. I wanted to leave early morning, but was really tired from the rafting yesterday and the beer after that, so I only took off in the afternoon. I left at 16:20, which is the warmest time of the day (and it was 95F at that time). I only had a light breakfast and no lunch before I left, so I ate on the road. (This was stupid, I didn't really plan anything.) Finally, I lost the rythm completely on the last climb up East Jemez road and went from a high cadence to a slow cadence. I should have pushed myself and tried to up my cadence again, but I didn't so I went from cardio to muscle and that made that last climb just a killer.
In my defense, I did do one thing right! I brought 3 liters of water and went through exactly that. I was out for almost exactly 3 hours. I weighed myself before and after and I had exactly the same weight, so out in the scorching sun, under mild medium to high exertion, you sweat about a liter an hour. This is good, since that's the rule of thumb everybody quotes. It's fun to see this work out so well.
So tuesday, I'll try the clockwise loop. Except this time, I'll start at the crack of dawn to take advantage of the cooler weather and the low sun.
Now! What's this about the open source collaborative software? Welll, it occured to me, while I was out, that Los Alamos is essentially an undevelopped sport paradise. There are already ample hiking trails of various lengths and difficulty. We have an olympic size pool at 7500 feet altitude, which makes it great for training proper athletes. We don't have water outside, but hey you can't have everything. Now thanks to all the mesas and canyons, road cycling here is really fun. If you wanted, you could ride down to the Rio Grande (at about 5500 feet elevation) and then ride up all the way to the top of Pajarito Mountain. The parking lot of the ski resort is at about 10000 feet (maybe a little more), so that's an almost uninterupted 5000 ft climb. I'll try it at some point. I don't know how long it will take me to get to that point, we'll see. It's a challenge. In any case, I was just thinking that if we had proper shoulders on the main roads and a decent pavement quality, this place here would be a perfect one to attract cycling enthusiasts. We have plenty of opportunities to have really nice centuries around the area, really challenging one. We have a mountain biking race with the very evocative name of "Pajarito Punishment". All we really need is to get such events up to a high enough level to attract semi-pros and enthusiast. We already have teams who come here for training.
So what's up with the open source stuff? Well, I don't think the county has the money to build and maintain all that. That's where open source collaborative software (think mediawiki, the wikipedia software) comes in. We could use a wiki to allow the population to report washed out sections of the cycleways, potholes and so on. Maintaining high quality cycleways would probably be prohibitive. Given the large area we have around here, it would mean a lot of driving to inspect the road surface and fix stuff. If the county could harness the power of the local cyclists who would already use such ways, the workload would be reduced.
Now, the million dollar question is obviously "How much could you save with such a system?"
I don't know. remember, I was thinking about all that while cycling in the hot summer desert sun. It's probably all delusionnal talk anyway. 😉